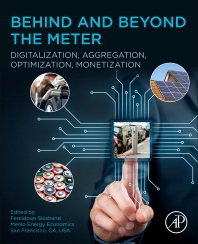 Fereidoon P. Sioshansi (ed.), Academic Press 2020, ISBN 978-0-12-819951-0, 512 pages, $125.
Available now. You can get a 30% discount using the code ATR30 at the publisher's website.
The historical ways in which electricity was generated in large central power plants and delivered to passive customers through a one-way transmission and distribution network – as everyone knows – is radically changing to one where consumers can generate, store and consume a significant portion of their energy needs energy locally. This, however, is only the first step, soon to be followed by the ability to share or trade with others using the distribution network. More exciting opportunities are possible with the increased digitalization of BTM assets, which in turn can be aggregated into large portfolios of flexible load and generation and optimized using artificial intelligence and machine learning.
Click here for more details including a Table of Contents.