Renewables get the blame even if thermal plants cause outages
In mid Aug 2020 amidst an unprecedented extreme heat wave, the California Independent System Operator (CAISO) ran short on generation capacity by roughly 1 GW at a time when the system peak demand was around 40 GW. It was embarrassing with the resulting rolling blackouts stretched over 2 days and affecting less than half a million customers. On 15 Feb 2021, the same misfortune afflicted the Electric Reliability Council of Texas (ERCOT) but on a much bigger scale. While an unusual freeze set a new peak demand of 69.15 GW between 6-7 pm on the prior day – 3.2 GW higher than the prior all-time peak set in Jan 2018 – ERCOT lost some 30 GW of generating capacity and was forced to shed as much as 16.5 GW of load at the height of the crisis, according to preliminary data subject to further analysis.
Load shedding: In the morning of 15 Feb, ERCOT had to shed load due to supply shortages mostly attributed to the unavailability of thermal plants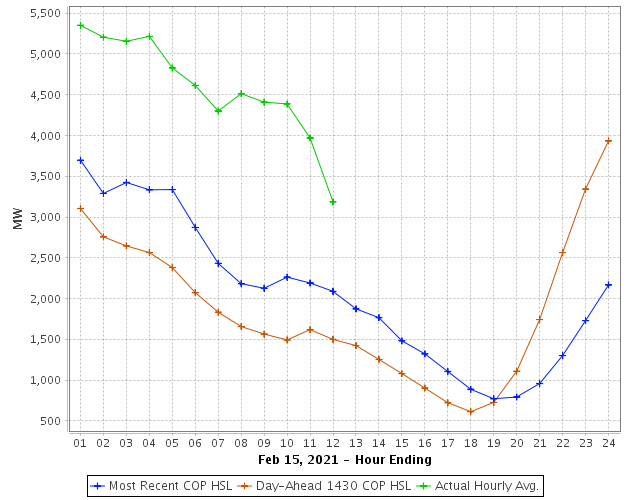 The scale of the crisis was much bigger – everything is big in Texas – affecting roughly 2 million customers who were left without power in the freezing cold for hours. While California's crisis was caused by excessive heat – most of the state was 10 degrees F above normal – most of Texas was 50 degrees F below normal. More than 6 inches of snow fell in Austin, Texas – the most in 55 years.
The cold shattered longstanding records: Temperatures dropped to 17 degrees F in Houston – unusual – and to -38 degrees F in Hibbing, Minn. For those who claim that climate change is a hoax, last year's extreme heat in California and the latest cold snap in the US provide solid evidence that both extreme heat and extreme cold are getting far more extreme and frequent.
In a prepared statement ERCOT CEO Bill Magness said, "We are experiencing record-breaking electric demand due to the extreme cold temperatures that have gripped Texas," while, "At the same time, we are dealing with higher-than-normal generation outages due to frozen wind turbines and limited natural gas supplies available to generating units."
Why Magness mentioned "frozen wind turbines" ahead of outages at natural gas fired plants is curious. According to Dan Woodfin, senior director of system operations at ERCOT, "Some of the energy sources powering the grid were knocked out by the inclement weather, most of which were facilities run by gas, coal or nuclear energy." In fact, Woodfin noted, "Most of the plants that went offline during evening and morning today (15 Feb) were fueled by one of those sources," adding, "Wind turbines, which provide a much smaller source of energy for the state's power grid, were iced over and also out of commission."
Woodfin said, "These outages will continue until there's sufficient generation being able to be brought back online to meet the demands on the system," adding, "At this time we anticipate that we'll need to continue these control outages at some level for the rest of today (Mon 15 Feb) and at least first part of Tuesday (16 Feb), perhaps all day tomorrow."
Early on 15 Feb, ERCOT said it had entered emergency conditions and initiated rotating outages at 1:25 am, shedding about 10.5 GW of customer load affecting approximately two million homes. It said,
"Extreme weather conditions caused many generating units – across fuel types – to trip offline and become unavailable."

"There is now over 30 GW of generation forced off the system."
Few hours later it said it was is beginning to "restore some of the power lost due to the winter weather event in Texas."
As of 4 p.m., approximately 2.5 GW of load is in the process of being restored – enough power to serve 500,000 households.
Magness added,
"ERCOT and Texas electric companies have been able to restore service to hundreds of thousands of households today, but we know there are many people who are still waiting."

"It's also important to remember that severe weather, mainly frigid temperatures, is expected to continue, so we're not out of the woods."
As of 4 pm on 15 Feb, ERCOT was instructing transmission owners to shed approximately 14 GW of load, down from 16.5 GW earlier in the day.
Starting on Sunday 14 Feb, the grid operator experienced frozen wind turbines and limited gas supplies, which caused a significant number of generating units to trip offline when the weather worsened overnight. It said approximately 34 GW of generation was forced off the system.
While the details are still emerging, one can assume that the frozen wind turbines were not the main culprits even if they contributed to the shortages. When all is said and done, don't be surprised that natural gas supply shortages and frozen equipment at thermal plants caused the capacity shortfall.
Renewables usually get the blame even if the thermal plants are primarily responsible for the outages.