Not good news for anyone concerned about climate change
This is a sample article from the March 2013 issue of EEnergy Informer.
Citizens of China's big cities don't have to look far for evidence of how much coal is consumed in China and its devastating effect on the environment. All they have to do is to look out the window — which in many days may barely allow them to see across the street. For anyone not familiar with China's coal appetite, the graph on right speaks volumes. It shows the China's coal consumption, doubling since 2000, is approaching the combined global consumption outside China.
Moreover, while global coal consumption outside China has been flat since the 2008 financial crisis, China's growth shows no apparent signs of a slowdown (graph below). Currently, China accounts for 47% of global coal use — a figure that might reach the 50% mark in 2013.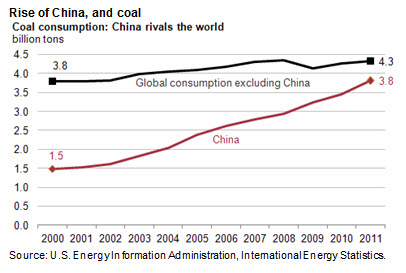 Driven by growing demand in China, India and other developing countries, global coal consumption is projected to continue. According to December 2012 projections by the International Energy Agency (IEA), coal could surpass oil as the world's top source of energy by 2017. IEA says that coal use will grow virtually everywhere except in the US — where plentiful and cheap natural gas is unseating coal as the primary fuel for power generation.
US, currently the second biggest global coal consumer, is likely to move down the rankings, replaced by India. America's greenhouse gas (GHG) emissions are likely to decline as a result of these shifts, while India's will increase. No surprise there. More coal means higher GHG emissions.
Against this backdrop, there are major shifts in global coal production and trade. US coal miners, faced with declining domestic sales, are increasingly looking at export markets, with Europe as the main destination where coal currently competes favorably against pricy gas (graph below). Once Europe further tightens its GHG emissions, markets in Asia will fill the void, until they discover what everyone already knows — namely the fact that coal is carbon heavy.
Meanwhile, China has overtaken Japan as the largest importer of coal while Indonesia is expected to pass Australia as the world's largest exporter of coal by 2017. These shifts, while happening slowly, are significant on multiple levels, for both major coal exporting and importing countries.
Can China's insatiable demand for coal be slowed or reversed any time soon? IEA examined a scenario where China's annual economic growth rate was assumed to slow down to 4.6% — low by Chinese but high by OECD standards — yet the country's coal consumption would continue to grow even under such a draconian assumption.